Back to Press Room
New Study: PBMs Reduce Spending in Medicare Part D by 58 Percent Driving Down Costs for Beneficiaries, Taxpayers
Pharmacy Benefit Managers projected to save the program $896 billion from 2016-2025
WASHINGTON, D.C. – A new study released today by the Coalition for Affordable Prescription Drugs (CAPD), conducted by Oliver Wyman Actuarial Consulting, Inc. (Oliver Wyman), estimates Part D costs would be 58 percent higher absent pharmacy benefit managers' (PBMs) evidence-based clinical programs and price negotiations with pharmacies and drug manufacturers. The study provides the most comprehensive look to date at the savings generated by PBMs in the Medicare Part D program.
Oliver Wyman estimates PBMs saved the Part D program $47 billion in 2014 and projects savings of $896 billion over ten years, from 2016 to 2025. These projected savings are broken down by three main PBM activities:
$604 billion as the result of PBM-negotiated discounts and price concessions
$243 billion as the result of shifting utilization toward lower cost, clinically equivalent
products, such as generic drugs, and;
$49 billion as the result of evidence-based clinical programs that promote appropriate
utilization and help patients improve their adherence to medications.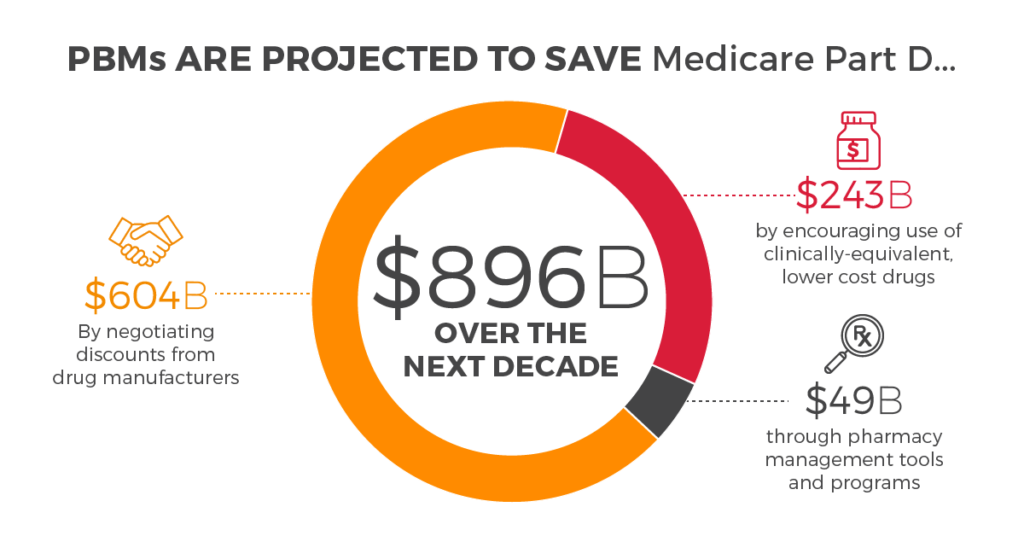 According to the Centers for Medicare & Medicaid Services (CMS), more than 39 million seniors receive coverage for prescription drugs through the Medicare Part D program. As of 2014, aggregate annual Part D costs reached $80.5 billion and are expected to reach $215.1 billion, as the number of seniors covered is anticipated to reach 55 million by 2025. This analysis details the significant role PBMs play in controlling costs in the Part D program and ensuring more affordable access for all beneficiaries.
The study estimates that without PBMs, beneficiary premiums would be 66 percent higher. Because of PBMs, CMS and Part D beneficiaries combined will save on average $153.81 per enrollee, per month over the 2016-2025 period, which translates to more than $1,800 per enrollee, per year.
"PBMs are generating significant savings for the government, taxpayers, and beneficiaries in the Medicare Part D program," said CAPD Executive Director Meghan Scott. "These savings are a result of PBMs' use of clinical programs and negotiating experience, ensuring more affordable access to prescription drugs for seniors, better health outcomes, and more value. This study demonstrates that PBMs' role in the Part D program is working for the government, taxpayers, and beneficiaries. Policymakers should build on this proven private sector solution."
"Our study analyzed CMS data from 2014 to determine what savings PBMs generated for CMS and Part D enrollees, through direct negotiation with manufacturers to drive down the list price of prescriptions, through encouraging the use of lower cost generics by formulary management, and through evidence-based benefit management programs," said lead Oliver Wyman researcher Randall Fitzpatrick.
Read the full report HERE.